Description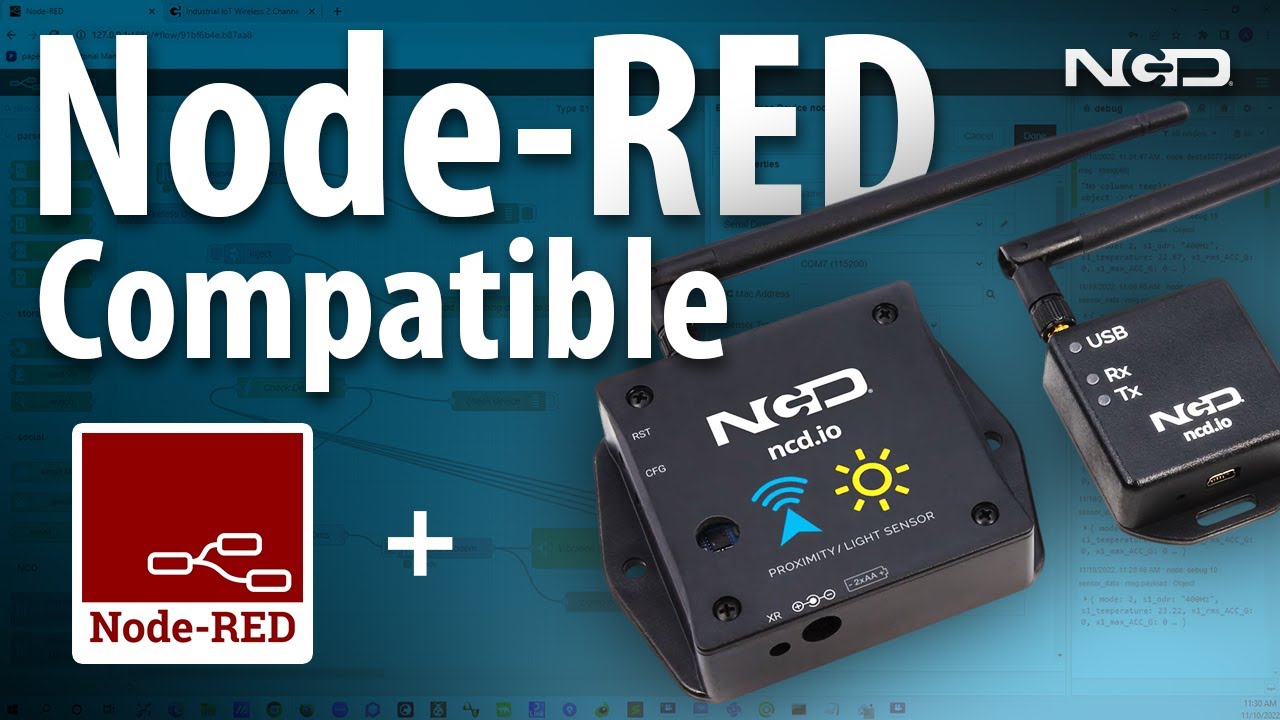 Industrial IoT Wireless RTD Temperature Sensor
Our long range wireless enterprise series sensors are an easy to use and reliable start to any data aggregation application. This video will demonstrate how they work, what they do, and how to use them.
Industrial IoT Wireless RTD Temperature Sensor
The NCD industrial IoT long range Wireless RTD Temperature Sensor Transmitter is capable of measuring extreme high and low temperatures with incredible precision.  This Industrial Wireless RTD Temperature Sensor transmitter support any 100 Ohm 3-Wire RTD sensor, and includes a free RTS PT100 probe for the purposes of experimentation and testing within room temperature environments, but best results are achieved when connecting a high-quality sensor that meets your application requirements.  This RTD sensor transmitter includes a on-board RTD signal amplifier for precision measurement.  This wireless IoT RTD Temperature Sensor Transmitter is ideal for industrial temperature monitoring applications supporting extreme temperature ranges, such as industrial boiler temperature measurement, liquid temperature measurement, and temperature monitoring of food storage units.  The NCD Wireless RTD Temperature Sensor Transmitter is designed to consume extremely low power and send data at extremely long distances of up to 2 miles line-of-light or up to 28 miles using high gain antennas.
Powered by just 4 AA batteries with a operational lifetime of 500,000 wireless transmissions, you can expect to achieve up to 10 years of battery life depending on environmental conditions and the transmission interval you choose.  Optionally, this sensor may be externally powered( Available on request).
Note : Custom 2 Wire, 4 Wire, PT1000 Also available on Demand. 
IoT Security
We take IoT security very seriously, which is why we encrypt every IoT sensor, gateway, modem, and device in the NCD Enterprise product line.  Encryption is much easier to manage than you might expect, as the encryption does not get in the way of using the device.  We include a standard 128-Bit AES Encryption key with every device or we can help you integrate a new encryption key into all of your devices.  All hardware devices must use the same encryption key.  Once the keys are set, the hardware manages the rest for you, 100% in the background. 
Wireless Range and Protocol
NCD long-range wireless IoT sensors use the DigiMesh® protocol from Digi.com.  DigiMesh® was designed by THE industrial leader in secure wireless communications for industrial applications.  DigiMesh® automatically hops data from gateway to gateway until it arrives at the desired destination.  NCD IoT sensors are capable of a 2-Mile line-of-site communication distance with the included antennas and up to 28-mile range when using high-gain antennas.    

Your IoT Sensor Data Belongs to You!
Your data belongs to YOU and it's up to you to decide where you want your IoT sensor data to arrive.  Don't be bogged down by the limitations of proprietary cloud solutions, post the data where you need it most.  We offer an open communications protocol so you can integrate NCD wireless transmitters into your own software.  This allows integration of NCD IoT sensors into any control system or gateway you could ever imagine.  Send data to a PC, Mac, or Linux computer, or a Raspberry Pi using NCD modems.  Send data to popular cloud platforms such as Microsoft® Azure® IoT, Losant, and MQTT using NCD Micro Gateways.  We can also help get data from NCD wireless IoT sensors to embedded platforms such as Arduino.  We also offer sample code for Microsoft® Visual Studio, Node-RED, LabVIEW®, and Python.  Our documentation fully breaks down the packet structure, so integration into other languages is possible.  We may even be able to help, so please feel free to contact us if you are working with a platform not mentioned here.
There is no better IoT Long Range Wireless RTD Temperature Sensor Transmitter on the market today.  Nothing compares with the long range, the price, the accuracy, the battery life, or the security features we have to offer.
Transmission Interval
This device sends data periodically, based on user-preset timing intervals.
NCD IoT Sensors send a lot more than just sensor data.  For instance, a unique serial number is sent so you can always identify a particular sensor on the network.  A Node ID is also included, which a single byte of data that you can use for anything, such as the floor of a building or to help identify which group a sensor belongs to.  Also included in the data packet is a firmware version, battery level, and sensor type.  This allows your software to positively identify and manage the health of NCD IoT wireless sensors.  While signal strength data is also available, it is handled in a different way, and is not included in the sensor data packet (but rest assured, signal strength data for each sensor is available).  Please see the Resources tab to see detailed information on the data structure of this device.  
How long Will the Batteries really Last?
Most NCD IoT Sensors are rated for 300,000 to 500,000 transmissions until the batteries become so weak they are unreliable.  You could spread these transmissions out over a 10 year period and send 50,000 transmissions per year.  This would allow up to 136 transmissions per day, or about 5 transmissions per hour (for a 500K sensor, or 3 per hour for 300K sensor).  If you only need the batteries to last 3 years, you could send 166,666 transmissions per year, or about 456 transmissions per day (about 19 transmissions per hour for a 500K sensor).  As you can see, battery life is really up to you.  By altering advanced settings in the NCD IoT sensor, you have control over longevity.  Please note the 500,000 transmission rating is for premium alkaline batteries.  NCD ships all sensors with premium Lithium batteries, which include a ultra-wide temperature range that typically lasts in excess of 600,000 transmissions for some sensor types.  These batteries weigh less than half of alkalines, and they work in the freezer!  A word of caution though, putting a sensor in configuration mode will drain the batteries very quickly.  It's important to configure your sensors and exit configuration mode as soon as possible or use a external power supply during configuration (if supported by the sensor).  The table below indicates how many Transmissions Per Hour (TPH) your can expect from different sensors over a lifespan of up to 10 years.
| Battery Life: | 3 Months | 6 Months | 1 Year | 2 Years | 3 Years | 5 Years | 10 Years |
| --- | --- | --- | --- | --- | --- | --- | --- |
| 300K Sensor | 136 TPH | 68 TPH | 34 TPH | 17 TPH | 11 TPH | 6 TPH | 3 TPH |
| 400K Sensor | 180 TPH | 90 TPH | 45 TPH | 22 TPH | 15 TPH | 9 TPH | 4 TPH |
| 500K Sensor | 228 TPH | 114 TPH | 57 TPH | 28 TPH | 19 TPH | 11 TPH | 5 TPH |
| 600K Sensor | 272 TPH | 136 TPH | 68 TPH | 34 TPH | 22 TPH | 13 TPH | 6 TPH |
TPH = Transmissions per Hour
How Do I Change Settings and Examine Raw Sensor Data?
Using our long-range USB wireless modem, users can expect easy operation over a virtual COM port at 115.2K baud.  Simply open the virtual COM port of the USB modem and watch data stream in.  Optionally, we offer a Wireless receiver that operates over Ethernet.  Data from NCD sensors will appear over TCP/IP on port 2101.  Simply open a TCP/IP socket, port 2101, to the IP address of the Ethernet modem and see your data stream in to your local area network.  We have developed LabVIEW® software for each sensor to change advance sensor settings using both Ethernet and USB modems.  Alpha Station also allows display of sensor readings as well as limited configuration (this feature is still in development).  Of course gateways are also available for sending data to popular cloud platforms such as Amazon® AWS® IoT, Microsoft® Azure® IoT, and Losant (more information below).  We take software samples seriously, so be sure to to check out the "Resources" tab to see code samples for Raspberry Pi, Visual Studio, LabVIEW®, Arduino, Python, and more.
What Frequency Do I Need?
During purchase, you will see three frequency options.  Not all options are legal for use in all areas, so it's important to make the right selection during purchase.  We will build your product and accessories based on the options chosen.  Here, we will explain these options in much greater detail, but please check your local laws BEFORE purchase.
900MHz for North America (U.S., Canada, and Mexico)
If you are located in North America, the 900MHz Option will provide the longest range currently supported with the best penetration through walls, buildings, industrial equipment, and trees.  This option is also the best choice for long range applications.  The official Line of Sight rating for this option is 2 Miles with included antennas or 28 Miles with high-gain antennas.  We suggest contacting Digi.com for a high-gain antenna recommendation if required.  Please check your local laws before choosing this option.
If you are located in Europe, the 868MHz Option is the only legal choice available at this time. This option offers better penetration through walls, builds, trees, and industrial equipment that 2.4GHz. The official line of site rating for this option is 14.5km using 2.1dBi antennas. Please check your local laws before choosing this option.
2.4Ghz for Worldwide Use (Except Europe)
The 2.4GHz option should be chosen if 900MHz and 868MHz are not legal for use in your country. Please note this particular module is NOT LEGAL for use in Europe, as it has a higher transmission power than is legally allowed at 2.4GHz. This option is certified for use in the United States, Japan, Australia, Brazil, and South Korea. Please check your local laws before choosing this option.
If you are unsure of which sensor option to choose, please contact us.  We may be able to help determine which sensors are legal for use in your area.
Wireless RTD Temperature Sensor Applications
Food Storage Temperature Monitoring
HVAC High-Side Low-Side Temperature Monitoring
Industrial Boiler Temperature Measurements
Liquid Temperature Measurement
Oven Temperature Monitoring