Description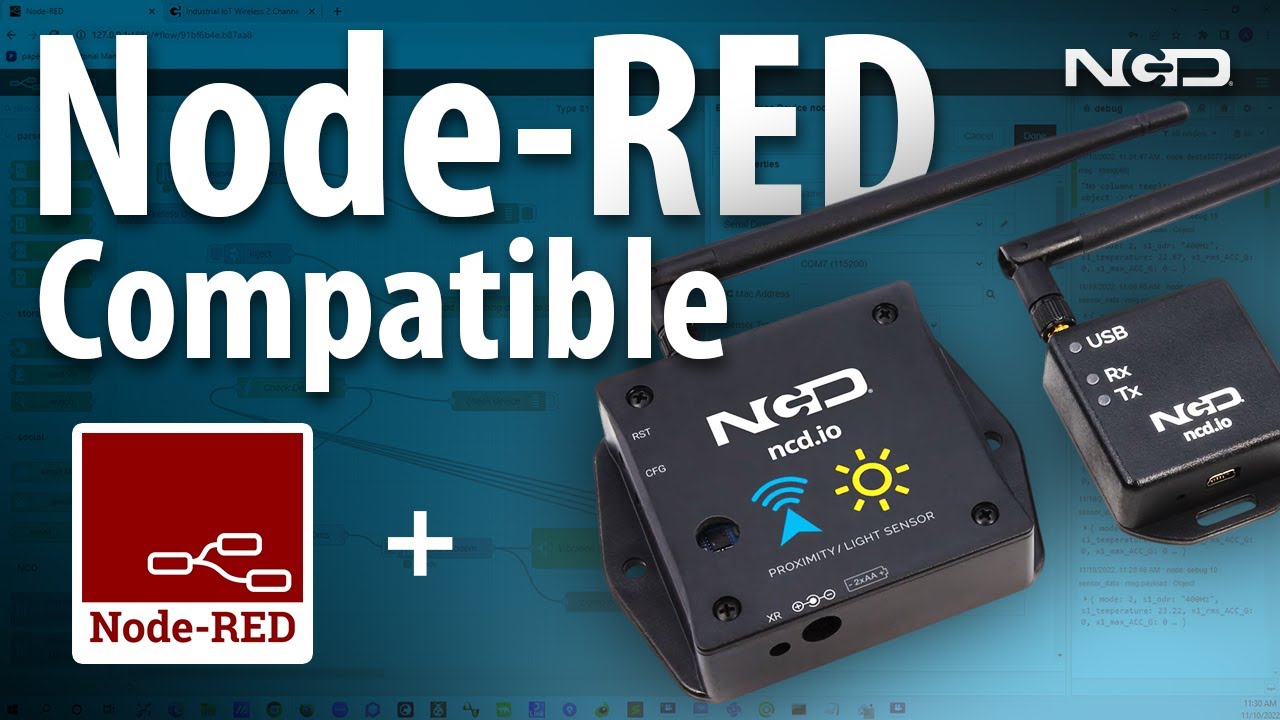 Industrial IoT Wireless to Ethernet Modem
Our long range wireless enterprise series sensors are an easy to use and reliable start to any data aggregation application. This video will demonstrate how they work, what they do, and how to use them.
Industrial IoT Wireless to Ethernet Modem
Connect to the NCD wireless sensor ecosystem using a sensibly simple Ethernet interface.  Our new IoT Wireless Ethernet Modem makes it easy communicate with NCD wireless sensors over Ethernet by simply opening a TCP/IP port and watching for incoming data to arrive as sensor data is broadcast.  We have stripped away complexity and focused on what you need most, an easy way to get wireless data over a Ethernet connection.  With a 2-Mile range (line of sight), this device operates at 900MHz for deep penetration through trees, foliage, and even some buildings.  With integrated Mesh networking, this device also acts as a repeater for sensor data.  Designed to work with any operating system that supports TCP/IP communications.  Simply open port 2101 and watch for data to arrive from NCD wireless sensors.
This Ethernet Gateway was designed for indoor use only.  Requires a 12VDC Power Supply (Included).
What Frequency Do I Need?
During purchase, you will see three frequency options.  Not all options are legal for use in all areas, so it's important to make the right selection during purchase.  We will build your product and accessories based on the options chosen.  Here, we will explain these options in much greater detail, but please check your local laws BEFORE purchase.
900MHz for North America (U.S., Canada, and Mexico)
If you are located in North America, the 900MHz Option will provide the longest range currently supported with the best penetration through walls, buildings, industrial equipment, and trees.  This option is also the best choice for long range applications.  The official Line of Sight rating for this option is 2 Miles with included antennas or 28 Miles with high-gain antennas.  We suggest contacting Digi.com for a high-gain antenna recommendation if required.  Please check your local laws before choosing this option.
If you are located in Europe, the 868MHz Option is the only legal choice available at this time. This option offers better penetration through walls, builds, trees, and industrial equipment that 2.4GHz. The official line of site rating for this option is 14.5km using 2.1dBi antennas. Please check your local laws before choosing this option.
2.4Ghz for Worldwide Use (Except Europe)
The 2.4GHz option should be chosen if 900MHz and 868MHz are not legal for use in your country. Please note this particular module is NOT LEGAL for use in Europe, as it has a higher transmission power than is legally allowed at 2.4GHz. This option is certified for use in the United States, Japan, Australia, Brazil, and South Korea. Please check your local laws before choosing this option.
If you are unsure of which sensor option to choose, please contact us.  We may be able to help determine which sensors are legal for use in your area.
Node-Red: IoT Without the Code
We've built Node-Red libraries so that you can build your entire IoT ecosystem with no coding necessary.  We are currently updating our libraries to include this device, full Node-Red Support coming soon.
900HP-S3B Industrial Wireless Mesh
Long-Range Wireless Mesh networking is our favorite of all wireless communication technologies.  This is the ONLY communications technology NCD recommends on the factory floor, operating at a safe 900MHz.  Mesh technology will hop data from one location to another to reach its intended destination, users do not need to do anything other than make sure wireless modules stay within hopping range of each other.  We use the Digi 900HP-S3B module in many of our products, as this is the best industry has to offer.  With a 2 mile range between modules and up to 8 hops, it is possible to cover 16 miles of wireless territory using this technology.  Using high-gain antennas, this module is capable of communicating to a remote module up to 28 miles away.  Please note that data hopping only works between live devices.  Data will not hop between sleeping sensors.  Data will hop from sensors to gateways and modems.  Data will also hop between gateways and modems.
Ethernet TCP/IP to Serial Converter
Control NCD devices using standard Ethernet TCP/IP communications.  Simply open a socket and send and receive TCP/IP data to control our devices.  Our Ethernet TCP/IP Communication modules feature our 3rd Generation Ethernet to Serial communications module.